For the sixth year, I am participating in the annual Picture Book 10 for 10 event hosted by Cathy Mere of Reflect and Refine: Building a Learning Community and Mandy Robek of Enjoy and Embrace Learning
.
Every August, those who participate share a list of ten favorite picture books. It's always a joy to see all the picture book love!
These are my lists from previous years:
This year my list includes picture books that tell stories of immigrants and refugees and give insight into their experiences. This summer, I read
Life, Literacy, and the Pursuit of Happiness: Supporting Our Immigrant and Refugee Children Through the Power of Reading
by Don Vu, a book about cultivating a literacy culture that will allow immigrant and refugee children to thrive. I saw him present a webinar on this topic, as well. He discussed the importance of sharing books about the immigrant and refugee experience. By doing so, we offer students with similar experiences the opportunity to see themselves reflected in the pages of a book. We also help to foster compassion and empathy by giving students who have not had these experiences insight into the challenges and issues related to being an immigrant or refugee.
My 10 For 10 List...
The Arabic Quilt: An Immigrant Story by Aya Khalil and illustrated by Anait Semirdzhyan
This book has now made my list two years in a row. It's a beautiful book about embracing differences and accepting others' cultures and languages.
Danbi Leads the School Parade by Anna Kim
Being new to America, Danbi is unfamiliar with the games and activities of school. Using her imagination, she brings a little magic to everyone's day and begins to feel like she fits in. This is a sweet story about new beginnings and the joys of connecting with others.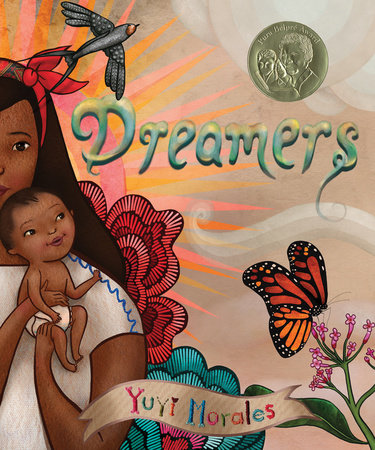 Dreamers by Yuyi Morales
Autobiographical, this book tells of a mother's journey with her son as they leave Mexico and travel to the United States. It's a story of hope and resilience that also shows the power of books.
I Dream of Popo by Livia Blackburne and illustrated by Julia Kuo
This is a poignant story about a girl who moves to the United States from Taiwan and maintains a connection with her popo in spite of the physical separation.
I is For Immigrants by Selina Alko
An alphabet book that celebrates our diverse American culture.
Lilah Tov Goodnight by Ben Gundersheimer and illustrated by Noar Lee Naggan
With few words, this book tells a meaningful story about the resilience of a refugee family and celebrates nature.
Lubna and Pebble by Wendy Meddour and illustrated by Daniel Egnéus
Lubna, a refugee girl, comforts another and makes a friend in this heart-breaking, but hopeful story.
Story Boat by Kyo Maclear and illustrated by Rashin Kheiriyeh
This is a beautiful and lyrical book about a sister and brother who flee their home and go in search of another.
Watercress by Andrea Wang and illustrated by Jason Chin
The author based this story on her experiences growing up as a child of immigrants. It's a beautiful and poignant story.
Wishes by Muon Thi Van and illustrated by Victo Ngai
This story of a family's journey as they leave their home in search of another, told through a series of wishes, is poetic and incredibly moving and powerful.