Every Monday, I share books I have recently read. I also participate in It's Monday! What Are You Reading?, a community of bloggers who link up to share what they are reading. To find out what other bloggers are reading, check out the host blogs,
Teach Mentor Texts
and
Unleashing Readers
, or follow on Twitter at #imwayr.
Recent Reads...
Turkey's Valentine Surprise by Wendi Silvano and illustrated by Lee Harper
Turkey receives a Valentine from a secret admirer and decides to secretly give each of his farm animal friends one, as well. His punny Valentine's cards are a hit, but his disguises give him away. One last Valentine card gives him an idea that they all can enjoy. A fun Valentine adventure.
The Lost Library by Jess McGeachin
In his new house, Oliver finds a book with a message that the book should be returned to the lost library. With the help of his neighbor, Rosie, they return the book and go on an adventure that takes them through a magical world with a forest of books and a Bookshelf Dragon. This is a sweet story about the power of both books and friendship.
Very Good Hats by Emma Straub and illustrated by Blanca Gómez
This is a charming book about all the different items that can be a hat. The author's clever ideas about what can be put on one's head will inspire young readers to think of their own unique hats.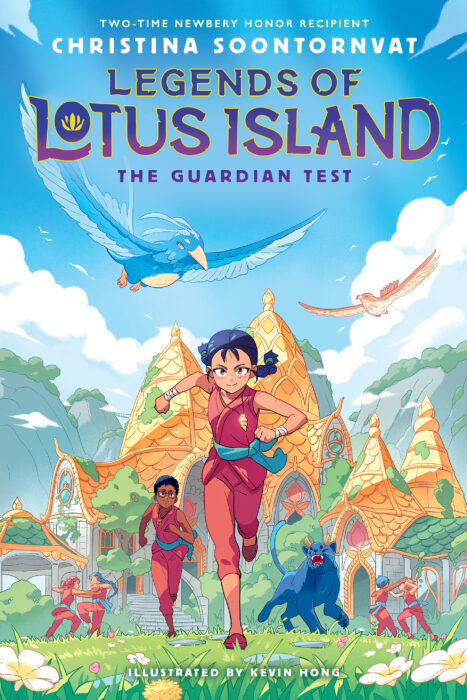 The Guardian Test (Legends of Lotus Island #1) by Christina Soontornvat and illustrated by Kevin Hong
Plum's grandparents have applied for her to attend the Guardian Academy on Lotus Island and she has been accepted. She has no interest in learning to transform into a magical creature in order to protect the environment and doesn't think it's something she'll be good at, but her grandparents believe it is a great opportunity for her. When she gets to the island she is challenged by her first task which she must master in order to continue on. In addition, she is learning to navigate friendships with others at the school. This start to a new fantasy series has lots of magic and adventure. Under two hundred pages, it's perfect for elementary readers, especially those who are hesitant to read longer books. Thanks to the publisher for providing my book review group, #BookExcursion, with an advance reader's copy. The book publishes on February 7th.
Adult Reading Recommendation
Outsmart Your Brain: Why Learning is Hard and How You Can Make it Easy by Daniel T. Willingham
This is an insightful book about how to learn efficiently. I wish I had this book when I was younger because I think it would have helped me as a student. There were a variety of topics covered including how to listen to get the most out of a lecture, how to take notes, how to read texts that cover content, how to take a test, and how to deal with anxiety. A very practical book for anyone who wants to improve upon their learning habits.