Every Monday, I share books I have recently read. I also participate in It's Monday! What Are You Reading?, a community of bloggers who link up to share what they are reading. To find out what other bloggers are reading, check out the host blogs,
Teach Mentor Texts
and
Unleashing Readers
, or follow on Twitter at #imwayr.
Recent Reads...
I Am Ruby Bridges by Ruby Bridges and illustrated by Nikkolas Smith
This is a poetic and powerful memoir. I love the voice of Ruby Bridges as she shares her six-year-old perspective of her role in school integration. Young readers will gain insight into an important moment in history. The illustrations are beautiful, too. Thanks to the publisher for a review copy. The book publishes in September.
More Than Peach by Bellen Woodard and illustrated by Fanny Liem
When Bellen's classmates wanted a peach-colored crayon they asked for one that was skin-colored. Bellen decided to take action to change this language to be more inclusive of all skin tones. The author's story of how she became an activist at the age of eight is inspiring and empowering.
Nana, Nenek, & Nina by Liza Ferneyhough
Nina's grandmothers each live in different parts of the world. Her visits to see them are very different, but there is always joy. A book filled with love and warmth with gorgeous illustrations.
Your Pal Fred by Michael Rex
Set in a futuristic world, Fred is a robot who is determined to make peace between two rivals. This is a silly and adventurous graphic novel that has a sweet message about kindness and friendship.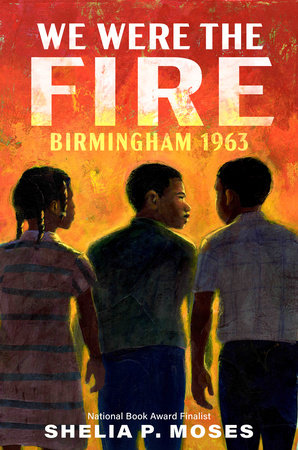 We Were the Fire: Birmingham 1963 by Sheila P. Moses
Rufus, who lives in Birmingham, is adjusting to his mother's second marriage and a move to a white neighborhood where the majority of whites are not in favor of integration. Rufus wants to do what he knows is right and participate in a march, like many other activists are doing, but his mother insists he is too young. Along with other children in Birmingham, he decides to join the fight for freedom. This historical fiction novel gives insight into how children during the civil rights movement took action for a better and more just world. It's engaging and powerful. Thanks to the publisher for an advanced reader's copy. The book publishes in September.
Adult Reading Recommendation
Normal Family: On Truth, Love and How I Met My 35 Siblings by Chrysta Bilton
The author tells the story of her unconventional childhood and the way her family came to be. I was riveted by the story and couldn't put it down. It's a meaningful exploration of family and resilience and is a book that gives the reader much to think about. One of the best memoirs I've read.