Every Monday, I share books I have recently read. I also participate in It's Monday! What Are You Reading?, a community of bloggers who link up to share what they are reading. To find out what other bloggers are reading, check out the host blogs,
Teach Mentor Texts
and
Unleashing Readers
, or follow on Twitter at #imwayr.
Recent Reads...
Daddy Speaks Love by Leah Henderson and illustrated by E.B. Lewis
This is a beautiful celebration of fathers and the ways that they guide, encourage, and inspire. The illustrations are gorgeous and the author's note about the inspiration for the book is powerful.
I'm Not Scared, You're Scared! by Seth Meyers and illustrated by Rob Sayegh Jr.
Bear is easily scared, but his friend Rabbit is not. Bear finds ways to avoid his fears when he reluctantly joins Rabbit for an adventure. When his friend needs his help, he focuses on courage rather than fear to save the day. This is a silly and sweet adventure about facing one's fears, bravery, and friendship. Although I'm not a big fan of books written by celebrities, I found this one delightful.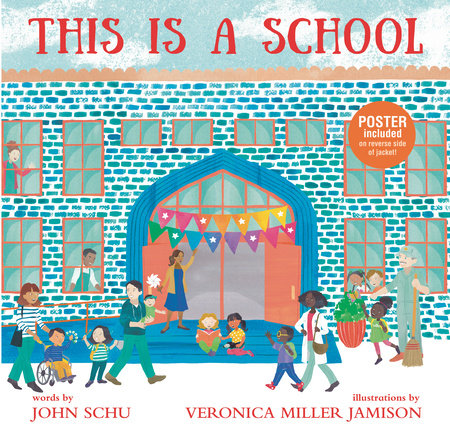 This is a School by John Schu and illustrated by Veronica Miller Jamison
The words and illustrations of this book capture the message that schools are communities that foster learning, inclusivity, and joy. It's a lovely book.
Doggo and Pupper Save the World by Katherine Applegate and illustrated by Charlie Alder
In the second book in the Doggo and Pupper series, Pupper wants to be a hero, but believes he needs to be braver and worry less to do so. When he finds himself in a situation where his help is needed, Pupper shows that being kind can be a heroic act. Early readers will enjoy the short chapters and the fun illustrations.
Join the Club, Maggie Diaz by Nina Moreno and illustrated by Courtney Lovett
Seventh-grader, Maggie, is trying to find her passion so she joins several school clubs. She's also dealing with family changes and trying to convince her mom to allow her to have a cellphone. This book is fun, heartfelt, and relatable. Thanks to the publisher for providing my book review group, #BookExcursion, with an advanced reader's copy. The book publishes in May.