Every Monday, I share books I have recently read. I also participate in It's Monday! What Are You Reading?, a community of bloggers who link up to share what they are reading. To find out what other bloggers are reading, check out the host blogs,
Teach Mentor Texts
and
Unleashing Readers
, or follow on Twitter at #imwayr.
Recent Reads...
Evelyn Del Rey is Moving Away by Meg Medina and illustrated by Sonia Sánchez
This is a heartfelt and beautiful story that captures the bond between two friends and the emotions of the last moments as it's time to say good-bye when one friend moves away. I found the last page particularly touching. Thanks to the publisher, Candlewick, for providing my book review group, #BookExcursion, with a review copy. The book publishes in September.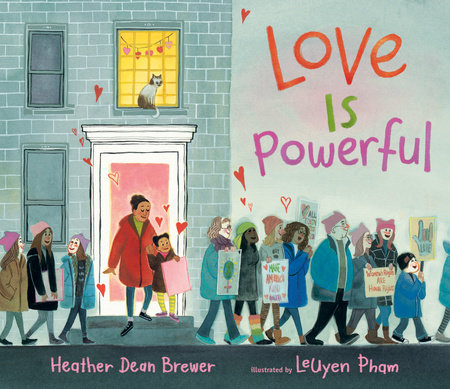 Love is Powerful by Heather Dean Brewer and illustrated by LeUyen Pham
This book tells the story, inspired by real life, of Mari who participates in a Women's March and learns that her voice matters. It's an empowering book with a much needed and always timely message. Thanks to the publisher for a review copy. The book publishes in September.
Memoirs of a Tortoise by Devin Scillian and illustrated by Tim Bowers
Oliver, an eighty-year old tortoise tells about his life with his eighty-year old human companion, Ike, throughout each month of the year. The year brings joy, sadness, and change. This is a moving story about loss and the importance of spending time with loved ones.
Tad by Benji Davies
Tad is the smallest of the tadpoles and all his brothers and sisters are growing up faster than him. When all the others have left the pond, Tad is left to fend for himself and keep away from Big Blub, the big, mean fish lurking in the dark waiting to eat him. This is a very sweet story illustrating the life cycle of a frog with a message that everyone grows and learns at their own pace.
Midnight at the Barclay Hotel by Fleur Bradley and illustrated by Xavier Bonet
This is a quirky, fun, and middle grade-appropriate murder mystery that takes place in a haunted hotel. There are five suspects who have all been invited for a getaway at the Barclay Hotel and three kids are determined to figure out which one of them is the criminal. Readers will be eager to turn the pages and find out as well. Thanks to the publisher for providing my book group, #BookExcursion, with a review copy.
Adult Reading Recommendation
Transcendent Kingdom by Yaa Gyasi
I have been eagerly awaiting this book since I consider the author's Homegoing is one of my favorite books. As in her first book, Yaa Gyasi's writing is stunning. She explores important and timely topics including the immigrant experience, opioid addiction, and mental illness. The story is heart-wrenching, but thought-provoking, as well. Thanks to the publisher and NetGalley for a digital review copy. The book publishes in September.