Every Monday I share books I have recently read. I also participate in It's Monday! What Are You Reading?, a community of bloggers who link up to share what they are reading. To find out what other bloggers are reading, check out the host blogs, Teach Mentor Texts and Unleashing Readers, or follow on Twitter at #imwayr.
Recent Reads
Be You! by Peter H. Reynolds
This is an inspirational read about being oneself and living a positive and successful life. The pages are filled with wonderful guidance about all the ways to be and joyous illustrations that celebrate uniqueness. I read this aloud to fifth graders last week and they appreciated the message.
The Infamous Ratsos Camp Out by Kara LaReau and Matt Myers
Students have loved reading the Infamous Ratsos books and I know they will be excited to see a new one out in the world. Each book is charming and has a great lesson. In this book, the Ratsos and their friends learn the importance of asking for and accepting help from others. I think the combination of humor and sweetness is what makes this series a delight for kids to read. Thanks to the author for providing my book review group, #BookExcursion, with an advance reader's copy. The book publishes in May.
The One and Only Bob by Katherine Applegate
I've been anticipating this book for a while and fans of The One and Only Ivan will not be disappointed. The story is told through the voice of Ivan's best friend, Bob, who has a great personality and sense of humor. This book will touch readers' hearts. Thanks to the publisher for a digital review copy. The book publishes in May.
Gold Rush Girl
by Avi
When Tory's father loses his job, he plans to travel to California to find gold with her younger brother. Although it's decided that Tory stay home in Providence, Rhode Island with her mother, she yearns for adventure and secretly makes her way onto the ship that is taking her brother and father to the west coast. San Francisco is not at all what Tory and her brother expected and her father leaves them alone while he goes off to find gold. When her brother goes missing, Tory begins a dangerous search to find him among the abandoned ships in the bay. This is a historical tale with lots of excitement and adventure.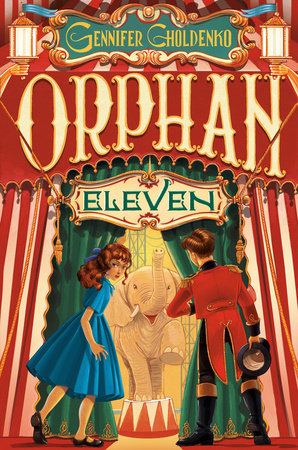 Orphan Eleven by Gennifer Choldenko
This book transports readers to a traveling circus in the 1930s. Lucy and three other orphans have escaped from the Home for Friendless Children and are searching for a place to belong when they happen upon the circus. If Lucy wants to work with the elephants and continue on with the circus, she must learn to use her voice again. As Lucy tries to shake her past at the orphanage, others are determined to bring her back there and it's a mystery as to why. An adventurous and heart-warming read about a girl with the courage to find her true home. Thanks to Random House for providing my book review group with an advance reader's copy. The book publishes in May.