It's Monday! What Are You Reading? is a community of bloggers who link up to share what they are rea
ding.
For more information and to find out what other bloggers are reading check out the host blogs:
Teach Mentor Texts
and
Unleashing Readers
.



What I've Been Reading This Week...
Margaret and the Moon: How Margaret Hamilton Saved the First Lunar Landing by Dean Robbins
Most know about the first lunar landing, but few probably know about the scientist, Margaret Hamilton, who had a huge part in its success. As a girl, Margaret studied hard, asked questions, and found solutions to problems. Margaret discovered computers, taught herself to code, and got a job at NASA. Her expertise in coding is what helped the first spacecraft land safely on the moon. This is an interesting biography told with just enough detail to make it accessible and interesting for elementary readers. Margaret's story shows the importance of hard work and problem solving.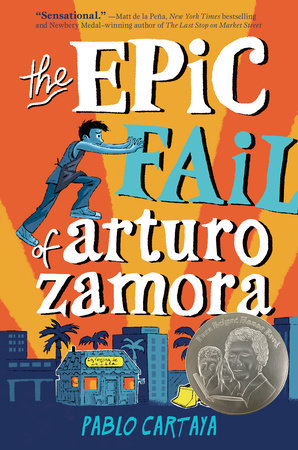 The Epic Fail of Arturo Zamora by Pablo Cartaya
Arturo is determined to save his family's Cuban restaurant, which they've owned for many years in their Miami neighborhood, when a developer wants to take over the lease. He is also confused about his feelings for Carmen, an old friend who moves into his apartment complex. The author has created an interesting character in Arturo, but also in the characters who make up Arturo's large, close-knit family. This is a wonderful story of family, community, love, and courage.
You May Already Be a Winner by Ann Dee Ellis
Olivia yearns for a better life. One in which she has more money, one in which her dad will be present, one in which her mother takes more responsibility for caring for her and her sister. In spite of this, Olivia does her best to do the right thing and take care of her family. I had to read this book carefully because there are times that the story switches from what is presently happening to what is happening in Olivia's imagination. Olivia's strength and determination in the face of challenges will make you want to root for her and keep reading to find out if it all works out for her and her family. This is a sweet, hopeful story about family and community. Look for this book in July.