It's Monday! What Are You Reading? is a community of bloggers who link up to share what they are rea
ding.
For more information and to find out what other bloggers are reading check out the host blogs:
Teach Mentor Texts
and
Unleashing Readers
.


This is What I've Been Reading...
7 Ate 9: The Untold Story by Tara Lazar
Private I has a mystery to solve when 6 comes into his detective agency and claims that 7 is coming to get him after eating 9. Private I investigates, questioning other numbers around town, until he finally puts two and two together to reveal the truth. The illustrations of the numbers with faces and tiny arms and legs are amusing. The book is also filled with number-related puns. This is a fun book that would be a great read for anyone who loves numbers or just enjoys a clever story.
The Great Treehouse War by Lisa Graff
Winnie and nine of her friends go to war against their parents. They all decide to live in Winnie's treehouse and refuse to come down until their parents meet their demands. This book, with its outlandish plot is humorous and entertaining. But, there's actually more to the story than just a silly plot line. Winnie finds a way to deal with her parents who, after their recent divorce, are at war with one another. Winnie also proves a remarkable friend to her nine treehouse roommates. The book also has some different types of texts interspersed throughout such as maps and instructions. Definitely a fun read.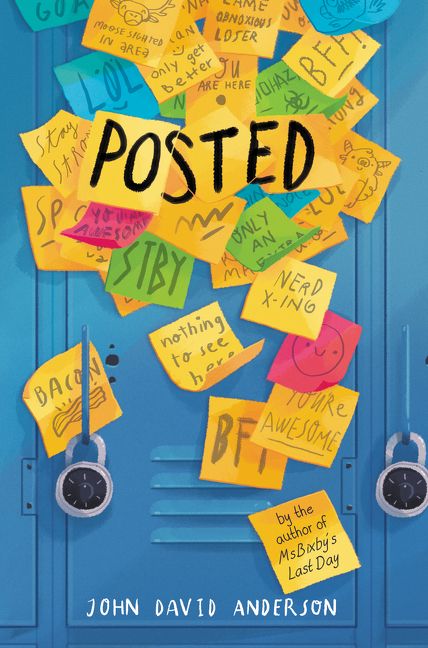 Posted by John David Anderson
Reading this book brought me right back to my middle school years. Even though it was many years ago, it's hard to forget how it felt to be that age. Middle school is full of awkwardness and confusion, especially related to fitting in and the desire to make real friends and to find a group to belong. John David Anderson seems to get all of that. He has written a book that I think all middle-schoolers should read. The book addresses friendship, bullying, and the pain of not feeling like one fits in. The message about the power of words and the impact of those words when we let them out into the world is an important one. This is a book middle school students will be able to relate to and learn from. I thank Melissa Guerrette, of Educate-Empower-Inspire-Teach, and Walden Pond Press for my signed copy of this book.