It's Monday! What Are You Reading? is a community of bloggers who link up to share what they are reading.
For more information and to find out what other bloggers are reading check out the host blogs:
Teach Mentor Texts
and
Unleashing Readers
.
This Week's Reading...
Everywhere, Wonder by Matthew Swanson
This lovely picture book will help readers appreciate the wonders that exist all around them. A young boy explains that the wonders can become our stories, but first we have to stop to notice them. This book may spark curiosity and inspire readers to tell their own stories. The gorgeous illustrations show that the world is an interesting place, full of beauty even in places we don't think to look.
Moon Shadow by Erin Downing
Lucia's parents have recently gotten divorced and her mother has moved to Sweden. After a summer away, Lucia returns to discover that two of her friendships have begun to fade. Lucia's life becomes even more complicated when her dreams start to blend with real life and strange things that happen to her seem to be related to her moonstone. Reality is blended with fantasy in this novel that will keep readers interested in figuring out the mystery behind Lucia's dreams. This is a wonderful story about discovering what true friendship really means and having the courage to just be yourself. The book will be available next month.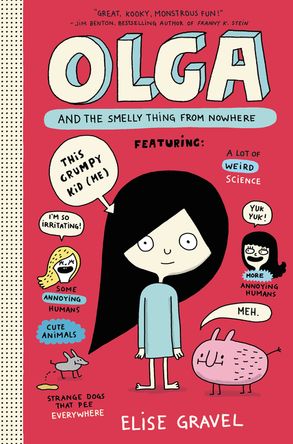 Olga and the Smelly Thing From Nowhere by Elise Gravel
Olga is a very small, slightly grumpy girl who thinks animals are way better than humans. This book is her observation notebook, as Olga wants to someday be a scientist. Olga's discovery of a strange, smelly creature leads her to find friends and realize that humans may not be so bad. Young readers will find humor in the illustrations and the many words related to bodily functions that appear throughout the book. Because this book is shorter on text and heavier on graphics, I think it will appeal to many of my reluctant readers.
Real Friends by Shannon Hale and LeUyen Pham
This graphic novel is based on Shannon Hale's childhood and highlights challenges of growing up that many young readers will relate to. In the story, Shannon has difficulty fitting in and making true friends. Shannon's early interest in storytelling is also evident within the story. The author's note at the end provides more insight into Shannon Hale's childhood and her decisions in writing her memoir. Knowing the popularity of El Deafo by Cece Bell and other graphic novels among my students, I think this one will be well liked as well. This book will be published at the beginning of next month.