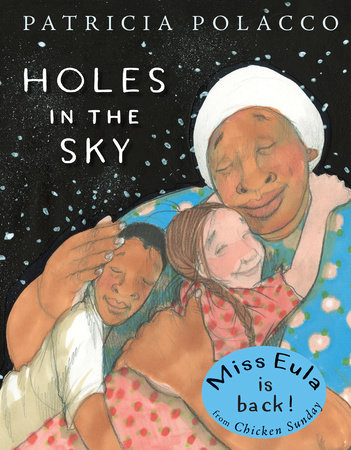 Patricia Polacco's books are among some of my classroom favorites. Her books, based on her own life, explore family and community and offer wisdom and life lessons. In
Holes in the Sky
, Patricia tells another story based on her childhood experiences, one that shows the importance of kindness and the power of the connections we make with one another.
Trisha's babushka has passed away and her family has moved to Oakland, California. There she meets Stewart, who soon becomes her best friend, and his grandmother, Miss Eula. Together, they hatch a plan to bring happiness to a neighbor by bringing her garden back to life. All the while, Trisha is waiting for a sign from her babushka until she realizes that she doesn't have to look any further than Miss Eula.
Holes in the Sky is a story with warmth, conveying the importance of caring for and being compassionate toward others. It also celebrates the beauty of a diverse community. The illustrations, drawn with pencil and marker, bring the story to life, revealing the joy and love between the characters at its center. This is a sweet and realistic story.
Thanks to the publisher, Penguin Young Readers,
for providing my book review group, #BookExcursion, with a copy of this book.