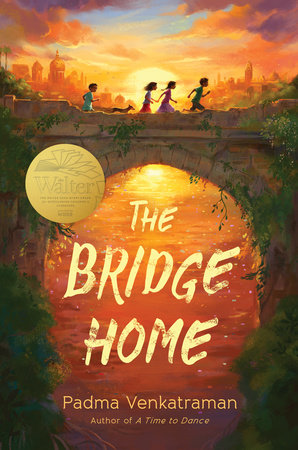 Long after you finish
The Bridge Home
, the story of Viji and Ruku and the two boys they meet, Muthi and Arul, will stay in your heart.
Viji and her disabled sister, Ruku, run away from home to escape the abuse of their father. They find an abandoned bridge for shelter and there they make friends with two homeless boys. Together the four face the dangers and struggles of being on the streets in India. To make money, they scavenge through garbage dumps and sell bead necklaces that Ruku makes. They are able to survive on their own, but when two of the children get ill they have to make decisions about who they can trust to help them.
This is a story that highlights the determination and resiliency of four children trying to survive in a world that has proven to be unfair and cruel. The bond between the sisters and the two boys is touching as they grow from strangers into a family. The book also explores loss and grief and conveys hope for moving on when sadness and despair threaten to overcome one's emotions.
The children in this story face a struggle that for many middle grade readers will be unimaginable. For this reason, this is a powerful book to share with them. It will provide insight into the diverse experiences of children throughout our world. A heart-tugger of a book, the courage and strength of the children in this book is an inspiration.
Thanks to the publisher, Nancy Paulsen Books, for the review copy of the book.
The book publishes in February.