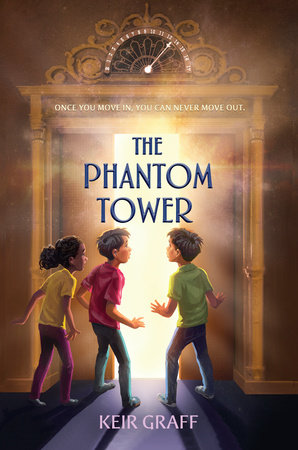 Twin brothers move from Dallas to Chicago where their mom has gotten a new job. They move into an apartment in Brunhild Tower, which seems unique from the moment they arrive. The building is fancy, but old and their apartment is full of belongings that past tenants have left behind. As Colm and Mal explore the building, they find themselves on the top floor in the apartment of an eccentric princess, an old lady with a fondness for cats. She warns them not to wander and to stay inside their apartment between one and two if they want to be safe. When a button in the elevator for a thirteenth floor appears mysteriously, Colm and Mal discover that there is a phantom tower and the inhabitants are ghosts of people who have lived in Brunhild Tower. With their new friend, Tamika, they set out to solve the mystery of the towers.
Readers of this book are immersed in the world of Brunhild Tower, which is both enchanting and spooky. The setting, along with a bit of mystery, adventure, and suspense, make it a page-turner. Colm, Mal, and Tamika are all true-to-life characters. The sibling relationship between Colm and Mal, whose personalities are very different, was interesting and realistic. Other characters, such as the princess and the professor, were quirky enough to add intrigue to the story.
This is a captivating fantasy for readers who like to be transported to magical and mysterious worlds.
Thanks to Penguin Young Readers for providing me with a review copy of this book.