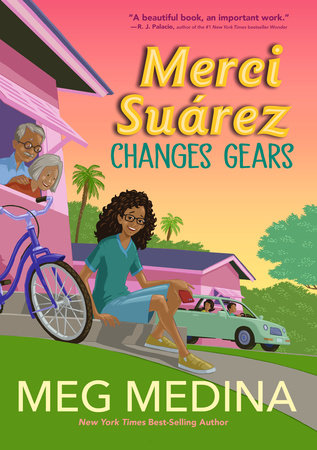 Merci Suárez experiences both the ups and the downs of growing up and learns that change is an inevitable and necessary part of life.
Merci lives with her intergenerational family - her parents and her brother, her Lolo and Abuela, and her Tia and twin cousins. She attends a private school in exchange for community service and often feels out of place amongst her peers. Merci not only faces challenges with fitting in at school, but she is also trying to understand why Lolo suddenly seems to be acting strange. He forgets, makes mistakes, and displays anger that is uncharacteristic of him and, although Merci is worried, her family will not tell her what is going on.
Reading this book, I enjoyed the window into Merci's supportive and loving family. The bond between Merci and Lolo is especially sweet and the book gives insight into how grandparents might change as they grow older. Middle grade readers will also be able to relate to Merci's struggles to fit in and get along with classmates and can learn from the ways in which she manages to cope. With hope and humor, this is an engaging story and one that will touch the heart.
I received an advance reading copy of this book, thanks to the publisher, Candlewick. This book publishes in September.