It's Monday! What Are You Reading? is a community of bloggers who link up to share what they are reading. To find out what other bloggers are reading, check out the host blogs: Teach Mentor Texts and Unleashing Readers. You can also follow on Twitter at #imwayr.
Imagine
by Juan Felipe Herrera
Lyrical and full of possibility, this book is the story of how Juan Felipe Herrera, former Poet Laureate, became a poet. He tells how he picked flowers, migrated to another country, slept under the stars, learned to spell in English, and read his book of poetry on the steps of the Library of Congress. As he tells his story, he encourages readers to imagine all that they can achieve. Herrera's words are filled with hope and inspiration and the illustrations, by Lauren Castillo, are gorgeous. Thanks to Candlewick for a review copy of the book.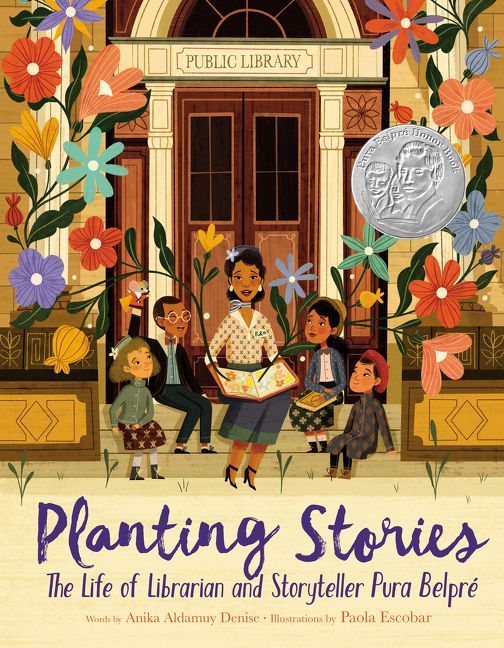 Planting Stories: The Life of Librarian and Storyteller Pura Belpré by Anika Aldamuy Denise
Pura Belpré was the first Puerto Rican librarian in New York City who wrote her own stories about Latinx characters because she could not find any on the shelves of the library. In 1921, Pura traveled from Puerto Rico to Manhattan with the stories her abuela had told her. As a bilingual assistant in the library, she led story hour, planting seeds of the folktales she had heard in Puerto Rico, and later authored her own books, so that children could remember the place they once called home. This is an inspirational story of a woman who influenced children's literature, but it also highlights the importance of books in which children can see themselves and their culture. The detailed illustrations are both warm and joyous. Thanks to the publisher, I received a review copy of this book at the National Council of Teachers of English Annual Convention. The book publishes in January.